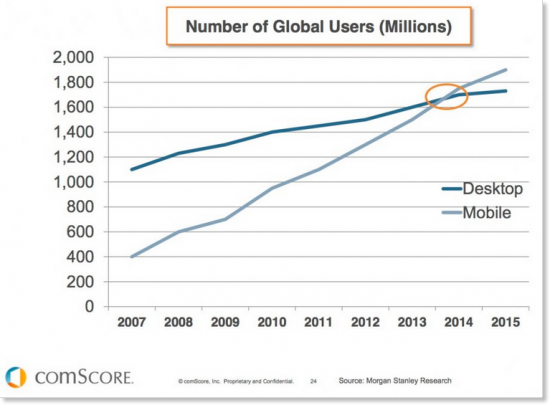 Mobile web design is absolutely crucial to every company's internet presence. Why? Because over 50% of all searches worldwide are done on mobile devices. In the United States, mobile search accounts for approximately 58% of all searches. So if your website doesn't display clearly, is hard to navigate, or takes too long to load on small devices, then you are definitely missing out on potential traffic and sales. Google rewards mobile web design with higher placement on mobile search results pages. In many cases, a website that is not mobile-friendly won't show up in mobile search results at all. This means that a business with only a desktop version of a website would miss out on over 50% (58% in the U. S.) of the potential traffic to their website just because it did not utilize mobile web design.

The chart from comScore indicates that mobile web usage surpassed desktop/laptop web usage in 2014.

In the United States, Hitwise examined hundreds of millions of online search queries across PCs, smartphones and tablets between April 10 and May 7, 2016 and published a report, Mobile Search: Topics and Themes. The bar chart shows mobile searches by industry and further demonstrates the importance of mobile web design.


The term web design broadly refers to the maintenance or production of websites. Traditional web design only had to accommodate desktop and laptop computers. Mobile web design is specifically geared toward optimal performance on smartphones and other mobile devices.
You may not need to scrap your current desktop site in order to have a mobile-friendly website. Some businesses have two versions of their website, one for desktops/laptops and another for mobile devices. The screen resolution and/or the device being used will determine which version the viewer will see. In this case, mobile web design techniques are applied to a separate version of your current website. The current website continues to look and function exactly the same way.

Years ago, just having a website was all that mattered. Now you must have mobile web design, or you could miss 58% of people in the United States searching for your product or service.



Sources: SearchEngineLand.com ; SmartInsights.com